I woke up in a panic.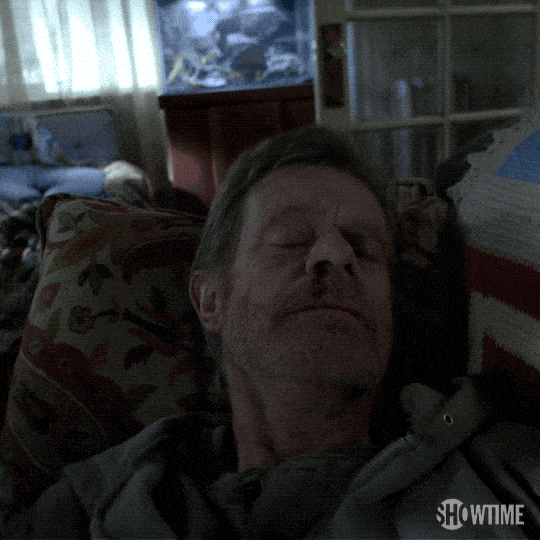 (dramatic recreation of me waking up)
Around Thanksgiving last year, I didn't know if we were going to ever open our doors. We had so many setbacks, money was running out and we still had a ton of work to do.
I put a contingency plan in place in case we didn't open our doors. I could repay the debt (and replenish my savings) with my job income and some side gigs and be in the black in 2087 if I lived to be 109 years old.
I'm joking, of course. It would take until 2097.
Seriously though, at this point last year, we had all but finished our taproom. We were brewing beer and had a family Thanksgiving celebration at the brewery with some of our own beer on tap.
But there were dark clouds looming above our heads.
We still needed to finish the parking lot, cut a hole in the road to tap into the water main (at a HEFTY price tag) and put the final touches on so many little things.
Lots of work, little time and running out of money. Recipe for disaster.
Miraculously, we got through December and January without filing for bankruptcy and on Feb 1st, we FINALLY passed our inspection to open the doors.
Now the REAL panic set in. What if no one comes in? What if they don't like our beer? What if they find out I'm not the actor / comedian Chris Rock and revolt?
Then at 12:15 PM on our first "sort of open" day, Ben and Apollo walked in the door. 
Ben asked, "You guys open?" For the first time in 14 months, we could finally say yes.
We officially had our first paying customer.
I couldn't believe it. We didn't tell anyone. Heck, we didn't even tell our friends. Yet, throughout the day more and more people showed up.
In fact…
We had a couple of hundred people walk through our doors and buy beer from us that weekend
How did that happen and CONTINUE to happen?
You. Yeah, you…
Nearly every person that walks through our door that's a new customer these days says the same thing: "My friend told me I had to come to check this place out."
We didn't convince them to come in. You did.
I'd say roughly 80% of new customers come in because you tell them about us or because you post about us on social media.
That's why I'm grateful you're the best salesperson we have here at RockPit

You probably don't realize just how good you are.
But every time you take a pic and post on social media, your friends see it and feel that the FOMO (fear of missing out). They feel compelled to come to RockPit soon after.
Every time you ask someone "Have you been to RockPit yet?" and they answer no, you tell them about us and those people walk through our doors and become customers.
Every time someone asks you "Where should we go tonight?" and you respond "RockPit!", you usually win the argument and you and your crew walk through the door.
I couldn't hire someone to impact our business as much as you do simply by taking a few minutes to post on social media or tell a friend about us.
Not only do you tell your friends about us, but you also keep coming back and hanging with us. Again, I wouldn't have guessed in a million years we'd be where we are just 10 short months after opening.
And we owe you a debt of gratitude that we'll never be able to repay.
We're truly grateful for the love and support you consistently give us. It's quite humbling.
We'll keep churning out the good liquids and continue to be our goofy, fun-loving selves as long as you keep walking through those doors and chilling out here for a while with us.
I don't know what else to say except thank you, thank you, thank you!
I hope you had a killer Thanksgiving and didn't get into too many awkward discussions with family.
If you need some recovery time, we're open today with a few new beer releases if you missed them on Wednesday. 
Cheers!
Chris Rock
Co-founder
chris@rockpitbrewing.com
407-826-1773 – Brewery
321-427-6870 – Cell