We last saw Damon on March 17th, 2020.
He was there when we, and all other breweries, got shut down.

(All of us on March 17th last year)
He mentioned he was going to the hospital in a few days for a minor procedure.
"In and out," the doctor said.
Then something went wrong during the surgery, and he spent the next two months in the hospital recovering.
When he left the hospital, we were smack in the middle of a pandemic.
Which at 74 years old, meant he needed to stay at home.
Like so many others, he couldn't risk venturing out to his favorite spots. One of which is RockPit where he's a mug club member.
For a guy like Damon, who was isn't a "stay at home" type of guy, this was torture.
But a few weeks ago, everything changed.
He got a text message from his doctor giving him the "all clear" to resume his life again after he received his two vaccine shots.
What did he do next?
He laced up his shoes.
Brushed his hair.
Threw on his jacket, grabbed his keys, and walked out of the door with a destination half a mile away.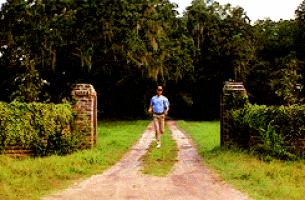 (dramatic recreation of Damon leaving his house)
He walked that half a mile that evening.
A huge smile adorned his face when he walked through the door of RockPit.
He sat at the bar. Ordered a beer and a steak (Gypsy makes the BEST steaks) and did something he hadn't been able to do in a year: felt normal.
I was there that night to see him. You couldn't wipe the smile off of his face if you tried.
And when he told me the story about getting a text message from his doctor and immediately coming to RockPit, you couldn't wipe the smile off of my face.
Still can't.
To be the first place he wanted to visit for a beer after getting the all-clear is so humbling.
It's a testament to the crew at RockPit (Rachel, Tammy, Calista, Katie, Cody, etc) and patrons, like you, that have built a culture of warmth, friendliness, and togetherness that make someone like Damon feel like this is his second home.
A place where you, like Damon, can relax, have a few of our new beers we release every week, eat a good meal and hang out at one of the events we have every week.
He especially loves the Tuesday Night Jam Sessions here.
And hey, if you like playing bar games, winning prizes and maybe a little cash, come hang with us on Wednesday during our Game Night.
You might walk away with some sweet swag, free beer, and $500 (or WAY more) in your pocket.
Again, I want to thank you for all the support you've given us over the past two years. We wouldn't be anything with your support and love.
I hope to say thank you in person if I haven't seen you in a while.
Cheers and see you at RockPit.
Chris Rock
chris@rockpitbrewing.com
Co-Founder / Chief Marketing Dude / Writer of Bad Grammar