Welcome aboard! Check your email.
You have a coupon being sent to your email inbox right now.
If you don't see the email in the next 15 minutes or so, check your junk mail folder. If you still don't see it, an email to chris@rockpitbrewing.com and we'll get you on the right path. 
Quick note: You'll receive an email from me every week. Read it. I've been told by dozens of people it's the only email they read and look forward to every week.
You'll be surprised and delighted that a business is sending something so interesting when you're used to getting those boring "Here's what's happening at xyz this week." emails.
I promise not to bore you.
Also like I said on the previous page, you'll get a text message from me every once in a while. If you don't want the text messages, simply reply "STOP" to any one of them and I'll stop sending them.
I wouldn't do that though. You'll seriously miss out on some REALLY great stuff we do here at RockPit.
Cheers!
Chris Rock
Co-founder, RockPit Brewing
chris@rockpitbrewing.com

(me failing at modeling)
I know I might be coming on a little strong here, but what are the chances we could be friends?
Like 1 in a million?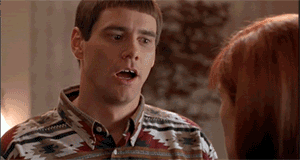 Even if it's that low, why not give us a like on Facebook or Instagram?