A couple of weeks ago, there was a question during our Wednesday game night that asked, "What does Chris do for pleasure?"
We, at the time, played a modified version of Cards Against Humanity with custom questions where we choose the best answer.
I'm glad no one guessed what I actually do for pleasure. It's weird.
But one of the answers from Mike Carroll hit close to home. He answered, "Reads RockPit reviews. Alone. In the dark."
He ain't wrong.
I do pay close attention to the reviews, as do most of us at RockPit. Heck, sometimes, my wife or daughter tells me about a review before I see it.
Usually, the reviews are solely about us. But, every once in a while, you get involved.
Yeah, you. You creep.
Look at this review.
Did you see what she said about you? "Weird stares"?
All I want to know is who was giving her the weird stares?

(Are you doing this??)
Listen… I know you'd like RockPit all to yourself, but we're trying to run a business here. We can't have you giving new customers weird stares. 🙂
In all seriousness, the good news is we have video. And it told a completely different story.
Check it out.
They walked in at 5:49:50.
One guy quickly glanced over at them when they walked in. I don't know if he gave her the Samuel L Jackson stare or not. But I don't think he had time in the 1.4 seconds he looked their way.
They stood at the corner of the bar from 5:49:56 until 5:50:06 before walking to a table and sat down at 5:50:14.
They sat there while Lexi closed the tab for one of the gentlemen seated at the bar (the 1.4-second "weird stare" guy).
Lexi then walked over and greeted them at 5:51:05.
Lexi talked with them for about 15 seconds and walked back behind the bar.
They got up at 5:51:45 and looked at our to-go beer fridge, and left at 5:52:10.
Quick visit, indeed.
So… One minute, fifteen seconds between walking in and being greeted by Lexi.
I mean… That's just unacceptable. Anything over one minute and fourteen seconds is a lifetime. We have to do better.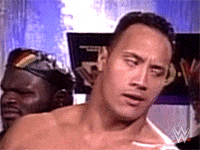 And, of course, here's a reminder about the Trump sign in the apartment next door: https://rockpitbrewing.com/weve-been-falsely-accused/
I don't know why they didn't stick around. Maybe we weren't their cup of tea. We never intended to be everyone's cup of tea.
We weren't there's and that's cool with us. We have you, and that's all we need.
Weird stares and all.
And if you feel like giving out some weird stares this week to people, swing by tonight for Cinco De Mayo Celebration / Game Night, Trivia with a few fun changes where you can win more prizes or rock out with Haze Over Hollywood on Friday night.
Cheers and see you soon at RockPit!
Chris Rock
Co-founder / Chief Marketing Dude / Writer of Bad Grammar