As we come upon our second-anniversary party this weekend, I can't help but think about how close we were to never opening our doors.
Yep. Two weeks more and we would have run out of money and would have thrown in the towel.
Here's what happened.
When we first walked into our building in early December 2017, I remember saying, "Wow… This place is a shithole… This is perfect."
The price was right, and we weren't afraid to get our hands dirty. So we signed the lease in late December 2017.
The first few months went well. We cleaned up rotten drywall, burnt insulation, and concrete floors filled with oil.

(Coal miner or Jeremy cleaning up our building?)
So gross.
Around March, we had completed the cleanup and started to build the brewery.
We had a goal of being open in July 2018. LOLOLOL. Damn. We were naive.
First, the brew system got delayed.
Ok. No problem. We'll open in August.
Again… LOLOLOL.
Then September came and went.
Now we're in "get the hell open fast mode" because we have to start paying rent.
October came and went, but we had a good feeling that we could get open by the end of November if everything went perfectly.
Then disaster struck.
We had someone scheduled to tap into the water main across the street for our fire suppression system.
It was not an easy or cheap job, but we got a decent enough deal and was supposed to get it done in late October.
But they backed out at the last minute.
Shit…
That left us scrambling.
When we finally found a company to do the work, it was WAY more expensive, and they couldn't do the work for another two months.
Which meant we had to pay another two months' rent and utilities with zero income coming in, PLUS we had to pay a king's ransom to get this work done.
And we were WAY over budget on everything else.
Oof.
After paying for the work and paying for our expenses for a few more months, things were bleak.
We had very little money left, and we couldn't get final approval to open our doors because of so many idiotic things.
To make matters worse, I couldn't get any gigs as a Chippendale anymore because I put on so much weight from stress eating and drinking.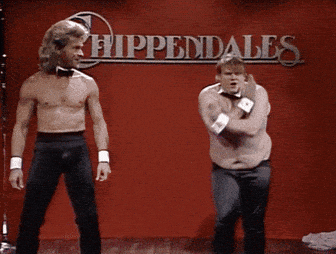 (Actual photo of me from January 2019 on the right)
But then… A small glimmer of hope in late January.
We finally got some much-needed approvals, finished the interior work, and scheduled our final inspection for February 1st.

(Ready for inspection)
Being battle-worn and weary, we expected the final inspection to come back with something that would delay us another month.
Had that happened, we would have never opened without some miracle or turning a few tricks.
Luckily, the tricks never had to be turned.
At 4:30 PM on February 1st, we got our green light to open.
The next day at around 12:15 PM, we sold our first beer to Ben and Apollo.

(lol… look at that pour)
Then a few more people walked in and we sold them a few beers.
Then a few more. And more. And more.
Since then, things have been going well for our little brewery.
You know, other than most of 2020.
January 2021 was our second biggest month in terms of beer sales and things are starting to return to where we were before the pandemic.
So I sit here with a smile on my face optimistic about the future of RockPit Brewing.
I can say without any hesitation that RockPit, for all intents and purposes, is just getting started.
We're making moves. Making things happen and have pretty big plans for the next few years.
One that might see us in some new digs. 👀
Thank you for everything you've done for us the past two years.
I plan on seeing much more of you and everyone at RockPit is dedicated to doing one thing: putting a smile on your face.
Awe… How cheesy. But true.
Cheers and see you this weekend for our second-anniversary party. 
Chris