I can't be the only one that caught this.
Did you ever figure out the question the characters ask themselves to make each day better than the last?
Did you know you can ask yourself a very similar question to do the same for yourself?
Here's how.
In time loop movies like Groundhog Day, Palm Springs, Edge of Tomorrow, and Boss Level, they all "reset."
And by "reset," I mean they die/fall asleep and wake up again.
They might not ask it outright, but the question they ask is, "What do I need to different today to make it better than yesterday?"
Technically it's not "yesterday", but you get my drift.
For instance, when Phil is trying to get Rita to fall in love with him in Groundhog Day, he learns more about her to make himself the person he thinks she wants.
Like learning French poetry.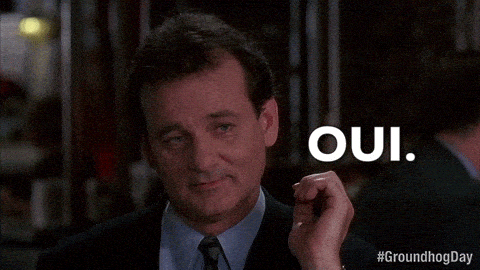 He eventually figures out that's a losing strategy with Rita (she's too smart for that), but he continues to become a better person, which allows him to escape the time loop.
Now I doubt you're stuck in a time loop, so you won't have the benefit of reliving the same day repeatedly.
Then again… You ever feel like you're repeating the same day over and over again?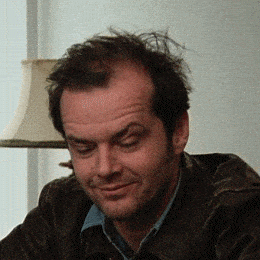 |
(Wait… are we in a time loop?)
Sigh…I need to get out more.
Either way, you can make improvements to your life by asking a simple question.
"If I could redo TODAY, what would I do differently?"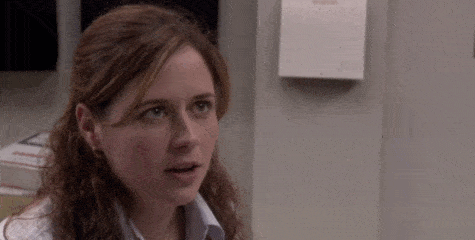 (You, right now)
See? Pretty good question, right?
Think about your day and write down what you could do better the next day.
Did you eat cookies for lunch today? Write down "eat a better lunch."
Did you skip your workout because you were tired? Write down "Don't skip my workout."
Did you accidentally send nudes to your grandma? Write down "Double-check the phone number before hitting send."
As soon as you wake up, you look at those things and remind yourself of what it is.
Most people will try to overcomplicate this by adding a bunch of stuff. Don't do that. One or two things MAX.
The more you add, the harder it is to remember everything.
So there you go. Who would have thought that hidden in all those movies is a philosophy to make your life better?
I know it sounds too simple to make an effective change, but in 30 days, you will have made 30 optimizations to your day.
Better than those stupid new year's resolutions.
Speaking of things you'll probably write down…
..If you don't come to RockPit for our Bluegrass, Bacon and Beer Night, you'll probably be writing down "I wish I went to RockPit and enjoyed some Live Bluegrass, Bacon goodies, and new beer releases."
Well… Maybe not, but you probably will regret it for two reasons.
First, you can fix that mistake right away. It will be another month before we do the event again.
Second, you'll have S.I.M.O. (shit, I missed out) all weekend, and I don't want that for you.
So to prevent the mental anguish that will come with missing out, swing by RockPit on Friday night.
It's going to be a damn good time.
Chris