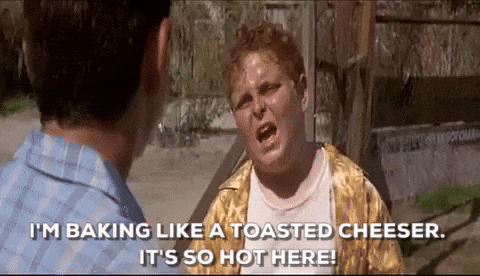 I feel ya Ham… Freaking baking up in here.
Is it cliché to talk about the weather? I feel like that's what people talk about when they don't have anything else to talk about. And I always have plenty to talk about. But, today, I'm making an exception.
Why?
Because we have two of the most ultimate thirst quenching, heat-busting beers, back on tap. Both are perfect for escaping this summer heat.
Seeds & Desist Watermelon Gose
If I'm not mistaken, Seeds & Desist was the fastest selling beer we've ever had. I need to confirm that fact, but it went VERY QUICKLY. For good reason. It tastes just like a sour watermelon jolly rancher. One that you'll absolutely love drinking.
This means when the general public finds out it's back on tap (those who don't subscribe to this newsletter), it's going to go very quickly again and we're not sure when we're going to make it again. We're already prepping for RockPitOberfest (more on that soon).
Read more about Seeds & Desist here
Sandy's Endless Summer
Sandy's Endless Summer is our American Wheat beer that packs a citrus punch. The citrus punch comes from loads of grapefruit and orange, then rounded out with lemon and lime zest.
If you want to know what it tastes like, head over to here to watch a video of me tasting it. If you REALLY want to know what it tastes like, head into RockPit to try it for yourself. Cause that's the best way.
Not only that, but we have Yankee Savage back on tap.  Yankee Savage is our house New England IPA that just keeps getting better. We're going to keep tweaking the recipe until it's the best New England IPA in Central Florida. Big promise? Sure. But one we'll deliver on.
2 New Beers On Tap!
This week we have a beer that's been requested dozens of times and another small-batch experimental New England IPA
Diffusion Porter
Diffusion Porter is our smoked oatmeal porter. We took some of our grain and had Cecil's BBQ smoke it for us. The result? A super roasty, chocolately and slightly smokey porter. 
And if you want to see me taste test this one, head over here.
Yankee Savage NE004
Yankee Savage NE004 is the next version of our experimental New England IPA's. This one has loads of tropical hop aroma and flavor including papaya, pineapple, stone fruit, and apricot.
It's only a one barrel batch so don't expect it to last long.
Cheers and see y'all at RockPit!